Residential Service & Maintenance
Pool Service Houston, Katy, Sugar Land, & Spring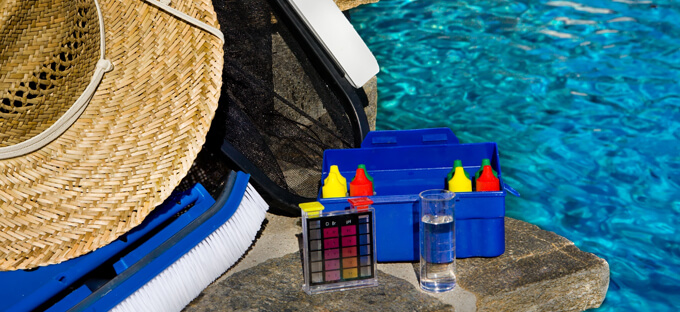 ---
For over 40 years, Sweetwater Pools, Inc. has provided residential clients with quality pool maintenance and repairs – caring for each client's pool as if it were our very own.
Sweetwater Pools offers many services to our clients including: (Residential and Condominiums)
Chemical Only Service $64.99 (+tax) /month & ( $35 Start up Fee)
(Weekly Chemical Applications & Adjustments as Needed)
Tired of having a GREEN or CLOUDY pool?
Confused on what chemicals to use, when to use them, and how much to use? Let Sweetwater Pools help by taking over your chemicals. Sweetwater will come out to your property once a week to maintain and balance your pool chemistry.
Chemicals we Use:
Liquid Chlorine
Acid
Chlorine Tabs
Shock
Stabilizer
Salt
The Chemical Technician will leave a door hanger after every visit to let you know what chemicals he has added and when it is safe to swim. He will also leave you a service record in the timer box to let you know the time he was at the property.
Chemical Service Plus (Initial Estimate Needed) $145.00 (+tax) /month & up
(Chemical Service Plus Twice a Month Full Cleaning Service)
Weekly
Chemical analysis
Filter gauge reading
Empty skimmer basket
Clean all motor baskets
Add chemicals as needed
Bi-Weekly
Backwash Filter as needed
(except cartridge filters)
Brush tiles & tile line
Brush pool
Add DE powder (if applicable)
Vacuum pool
Full Service (Initial Estimate Needed ) $175.00 (+tax) /month & up
(All of the above, Chemical Service Plus Weekly Cleaning Service)
Inspections $150.00
Pool School $95.00
Drain & Clean Call for FREE Consultation
Remodels/Renovations Call for FREE Consultation
Repairs Call for FREE Consultation
We want to extend to you how important it is to us that you receive the best service possible and want to make sure everything is to your satisfaction from repairs to billing to monthly chemical service. It's because of you we're here, providing service for over 30 years now! If you have any questions or concerns, please don't hesitate to contact us. We appreciate and value our relationship with you and are always striving to exceed your expectations.
For a free consultation, please contact us! Phone: 281-940-0445 Email: residential@sweetwaterpoolsinc.com