Pool Management
Pool Management Services Houston, Katy, Sugar Land, & Surrounding Areas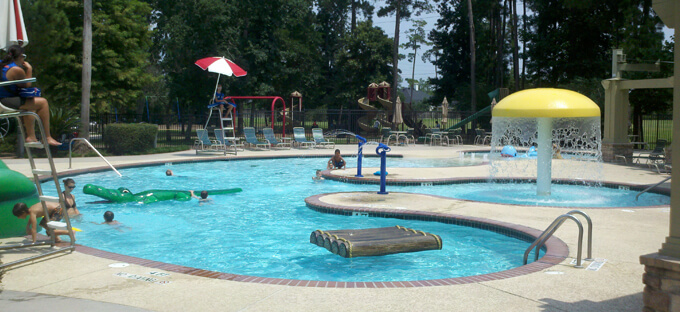 Sweetwater Pools, Inc provides comprehensive pool management services for communities, aquatic facilities, school districts and country clubs.
Our Services
Comprehensive Pool Management
Qualified Personnel-American Red Cross Certified Managers, Assistant Managers & Lifeguards
Pool Repairs, Services and Renovations
Chemicals and Maintenance
Aquatic Training Program
Our Training Programs
Swimming Lessons-Infants and Toddlers to Advanced Skills
Instructor Training
Water Exercise
Lifeguard for the Professional Rescuer
Basic Water Rescue
CPR for the Professional Rescuer w/ AED
Adult/Child/Infant CPR and First Aid
Bloodborne Pathogens Training
CPR and First Aid for Coaches
Babysitter's Training
Professional Pool Service
Sweetwater Pools takes great pride in providing a clean, safe and well-guarded facility. It is our desire to be a part of your community and to help you reach the goals you set in making the most of your aquatic facility. We care for each pool as if it were our own – providing the most responsive management, reliable maintenance expertise and top-performing staff.
Effective Communication
An open line of communication is essential between Sweetwater Pools and our customers. We encourage feedback by means of monthly evaluations and weekly contact with your aquatic facility representative.
Pool Service Department
Our experienced and professionally-certified service department is ready to help you will all your aquatic facility needs, from minor repairs to major renovations and new construction. Our business is to keep your pool chemically balanced and in top working order year round.
Quality Staffing and Supervision
Each facility is staffed with certified professional lifeguards under the supervision of a carefully chosen, mature manager. All aquatic personnel hold current American Red Cross Lifeguard Training certifications, including CPR for the Professional Rescuer. Annual retraining is required of all returning guards as well as pre-season management and water chemistry seminars. Weekly in-service training is required for all staff, which includes management, maintenance, and rescue skills reviews and evaluations. Area supervisors check each pool daily, acting as a link between the pool and our executive staff at the office and in the field.
Sweetwater Pools-All You Have to Do is Swim. Call today for a free consultation! 281-988-8480