About Sweetwater Pools
Houston Pool Construction, Maintenance, Management, Lifeguard & Repair Services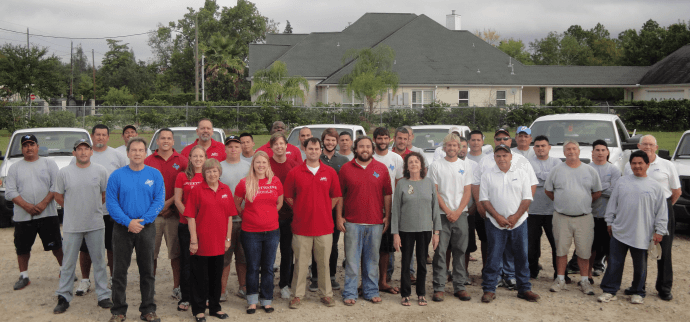 Houston Pool Construction, Management & Service Company
---
Founded in 1975 by Bill Bownds, Stan Sullivan and James Cherner, Sweetwater Pools started out serving only one customer and has grown into the largest pool and spa business of its kind in the greater Houston area.
Each of the three founders' passion for all things pool related began when James and Bill coached swim team, and Bill and Stan cleaned pools. They loved the idea of starting a business together but needed to wait until the time was right. Their long-standing history together before opening the business has proven to be the right recipe for success as Sweetwater Pools continues to be the premier full-service pool and spa company in the area after 40 years.
Whether you're looking to build a custom pool, renovate your existing one or are in need of a professional pool service and maintenance company, Sweetwater Pools offers something for everyone. We take great pride in our work and have dedicated ourselves to building a company that will help clients from initial construction to long after the pool has been filled.
We maintain an A+ rating through the Better Business Bureau and are members of the Community Association Institute, the Houston Apartment Association and the National Spa & Pool Institute. We are also active members of The Association of Pool & Spa Professionals (APSP), an industry organization dedicated to bettering the pool and spa industry. We are proud to announce 11 of our custom pools have earned recognition through the APSP's International Awards of Excellence Program.
When you choose to work with Sweetwater Pools, you're choosing to work with a company that has values your business and looks forward to the long future we'll have together.
A Few Words About Sweetwater Pools, Inc.
As the largest pool management company in Texas, Sweetwater Pools has been providing pool management services for subdivisions, aquatic facilities, school districts, and country clubs since 1975. Our goal is to provide safe, clean facilities, a competent, well-trained staff, and quality aquatic programming for customers. We believe that communication and professionalism are key elements to a successful customer relationship, and we have the experience and knowledge to ensure a happy, safe swim season for your patrons. The company takes great pride in providing a clean, safe, well-guarded pool along with an exciting and professional aquatics program. Each pool is staffed with certified lifeguards under the supervision of a carefully chosen pool manager. Area supervisors check each pool daily, acting as a link between the pool and our office. This helps us ensure that our high standards are being met. We are dedicated to ensuring that the residents of the pools we service have a safe and fun summer. To have highly qualified and professionally trained personnel to manage your pool is our trademark.